မင်္ဂလာပါ Visitor
ကားအကြောင်း
Chevrolet Sail 3 2020
for sale in Myanmar
29,000 USD
Chevrolet Myanmar
Chevrolet Myanmar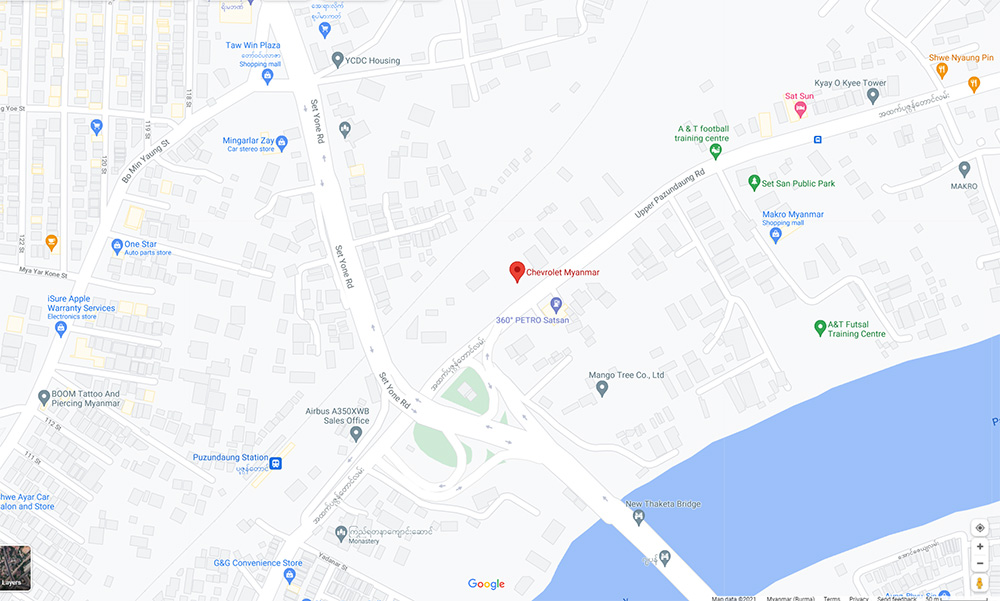 Car Specs
Chevrolet Sail 3 2020 for sale in Myanmar

Petrol


1.5 Liter


Auto transmission (gear)


Front-Wheel Drive (FWD)


5 ထိုင်ခုံအရေအတွက်

left စတီယာရင်


New Car


N/A


Authorized Showroom/Dealer
နောက်ထက်သတ်မှတ်ချက်များ
(Mechanical)
1.5L DVVT
Fuel Tank Capacity = 39L
Transmission = 4 automatic
(Interior)
Steering Wheel Radion Control
Front WindShield Laminated
Front Power Window
(Safety and Convenience)
Anti Lock Braking System (ABS)
Dual Front Airbags
Driver Seat Belt Reminder
Rear Parking Sensor
AUX and USB port
Four Speakers
4.2 inches color display
Bluetooth
More included (ပိုပြီးများအတွက်)
Car Seller Contact
If you contact the seller, you can inform seller you know about this car from motorcarmyanmar

Chevrolet Myanmar


Chevrolet Myanmar


contact@pacificalpine.com.mm


Yangon: No-242, Upper Pazundaung Street, Mingalar Taung Nyunt Tsp (Sat San), Yangon, Myanmar.

Mandalay : No. 514/2, 35th Street, Bet 58 & 59 Street, Chan Aye Thar Zan Tsp, Mandalay.


https://www.chevrolet.com.mm/


https://www.facebook.com/chevroletmyanmar.pacificalpine/


Authorized Showroom/Dealer




N/A
အကျဉ်းသမိုင်း နှင့် အချက်အလက်
Chevrolet Myanmar together with 'Pacific Alpine Pte. Ltd'. (an exclusive Chevrolet cars importer and distributor) was formed in April 2013. Among those cars are Spark, Spin, Sail3, Cruze, Malibu, Trax,Trailblazer, Colorado, Tahoe and Suburban.
Pacific Alpine is a joint-partnership between Alpine Group Singapore and Pacific AA Group Myanmar. Alpine Motors (a subsidiary company of Alpine Group) is a current authorized Chevrolet's importer and distributor in Singapore, and Pacific AA Group is a leading pharmeceutical products and petro-chemical lubricants distributors in Myanmar.
Pacific Alpine is committed to building long term relationships by putting customers at the center of everything it does.
Last Updated 02-Jun-2020
MOTORCARMYANMAR Top 10 Active Sellers
Top Seller Is Pinned Top At Facebook Page,
& clickable Facebook Page link provided